INJECTABLES
---
Botox

Botox, also known as the "Youth Keeping Injectios", is the most common cosmetic procedure that completely reverses the most prominent signs of ageing- WRINKLES! From celebrities to the guy next door, everyone gets Botox to keep fine lines and wrinkles at bay!
As a result of repetitive facial actions such as frowning, smiling, clenching or raising the eyebrows our skin gets folded over and over again causing wrinkles and fine lines due to dynamic actions of our facial muscles.
Botox is simply a purified protein that blocks nerve impulses gently paralyzing the muscles to avoid formation of wrinkles.
At Dermalyn, we make sure that the procedure is performed with urmost care by trained doctors so the muscles are just relaxed and not frozen. We want you to look as naturally beautiful as possible and not artificial beauties!
The most common areas it works on are the frown lines, crow's feet, forehead, laugh lines, neck and back of the hands. It can also be used to fix a droopy smile and for jawline re-shaping.
The effects last for 3-12 months depending on the treatment.
Why Choose Us for Botox Treatment in Delhi?
At our clinic, we take pride in offering top-notch Botox treatments tailored to your specific needs. Here are some compelling reasons to choose us for your Botox journey:
Experienced Specialists: Our team consists of experienced dermatologists and certified professionals who have successfully performed numerous Botox treatments with exceptional results.
Advanced Technology: We employ the latest Botox technology and techniques, ensuring precise and comfortable treatments that yield natural-looking outcomes.
Personalized Approach: Every individual is unique, and so are their skin concerns. We provide personalized treatment plans to address your specific cosmetic goals and concerns effectively.
Safety First: Your safety is our top priority. We adhere to the highest safety standards and maintain a clean and sanitized environment for all treatments.
Client Satisfaction: We remain resolute in our dedication to ensuring client satisfaction. We aim to exceed your expectations and leave you with a rejuvenated and confident appearance.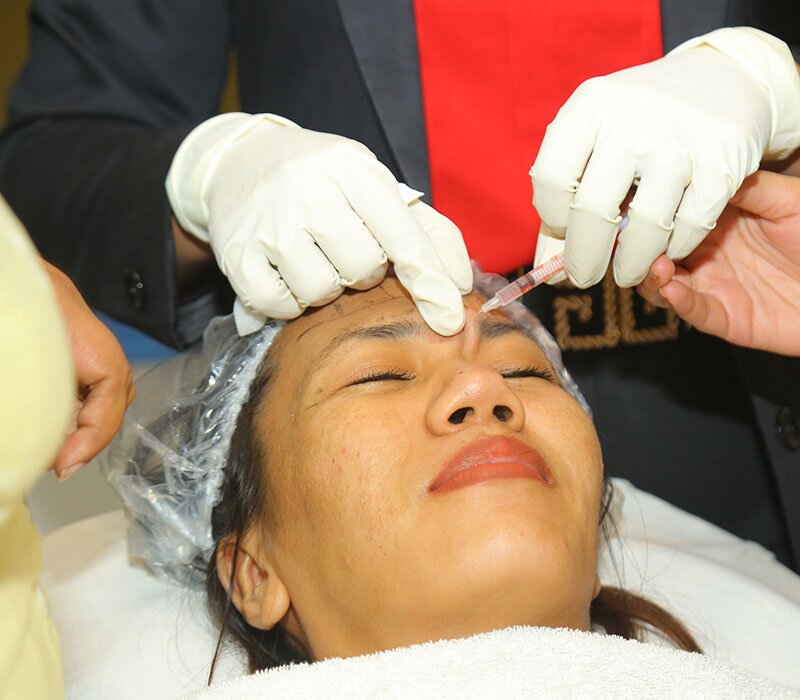 Frequently Asked Questions
Is Botox Safe?
Botox is considered safe when administered by trained and experienced professionals. At our clinic, we follow strict safety protocols to ensure a safe and comfortable experience for all our clients.
Does Botox Treatment Hurt?
Most clients report minimal discomfort during Botox injections. We use ultra-fine needles and can also apply a numbing cream to enhance your comfort during the procedure.
When Will I See Results?
How Long Do Botox Results Last?
The longevity of Botox results varies from person to person, but generally, they last between 3 to 6 months. Periodic touch-up treatments can help maintain the effects.
Are There Any Side Effects?
Botox is a safe procedure, but like any treatment, it may have some mild and temporary side effects like redness, bruising, or headaches. These usually subside quickly