INJECTABLES
---
COG Thread Lift

Thread Lift is a renowned safe alternative cosmetic procedure to redefine facial contours. A Thread Lift helps to pull up your skin and tighten up your face to give instant results in minimum downtime. Dermalyn Aesthetics, the best thread lift treatment clinic in Delhi has the experts to assist you in getting that charismatic desired look.
What is a Thread Lift?
Aging causes a decrease in the production of collagen and elastin responsible for making the skin firm. Along with the decline in muscle mass and fat cells arises wrinkles, sagging, lines, and folds in the skin. A thread lift is a non-invasive, quicker, and lesser-risk cosmetic procedure to reverse the minor signs of aging.
Thread Lifts are a popular cosmetic procedure at Dermalyn Aesthetics to restore your youth by inserting medical-grade threads into your face and then pulling up your skin by tightening these threads.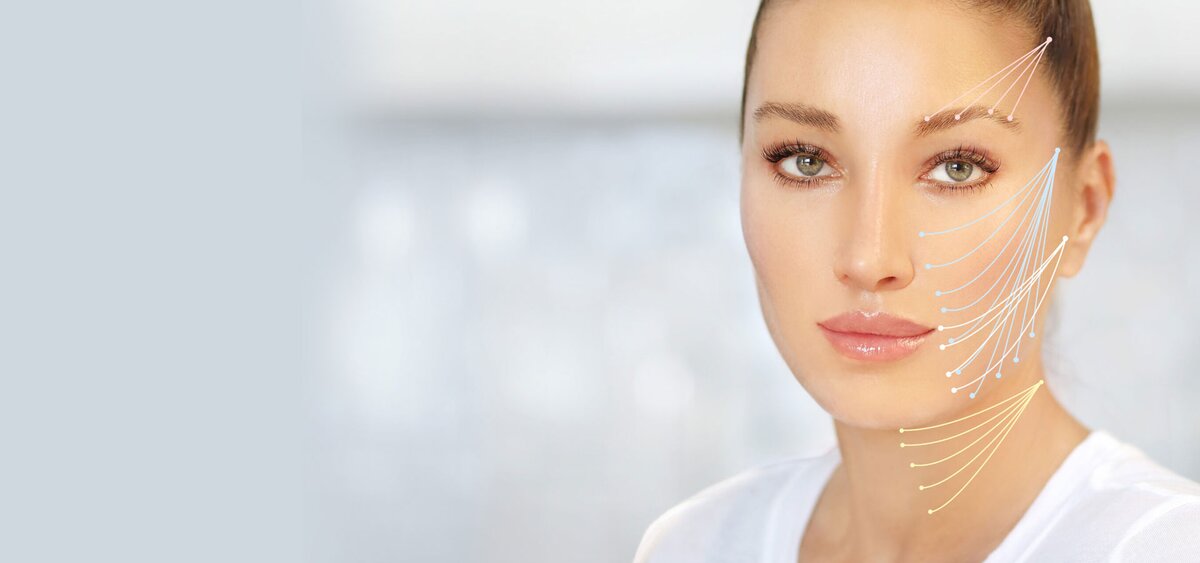 How does a Thread Lift Work?
The thread lift procedure works wonderfully at two levels:
First - By simply pulling up the skin after inserting absorbable threads in facial skin and then tightening them around the forehead or neck.
Second - Invisible barbs in thread initiate the healing process thus stimulating collagen production. This collagen filled up the loose spaces in the sagging skin hence defining the facial contours.
Best Thread lift treatment at Dermalyn Aesthetics will help you to revamp your youth look entirely.
How a Thread Lift is Done?
It is a very simple procedure done in a cosmetic clinic. Thread lift usually takes an hour to complete. You are completely conscious during the procedure, only local anesthesia is given on the face to numb the skin.
Highly skilled professionals at Dermalyn Aesthetics will slide hollow needles, known as cannula at a desired location. This cannula will guide to place threads in place and once threads are in place, the cannula is removed. You might feel slight discomfort which will settle in a few days.
Why Choose Dermalyn Aesthetics for Thread Lifts?
At Dermalyn Aesthetics team of internationally renowned doctors and trained professionals are pledged to give you the best version of yourself. We are firmly committed to being the best in the thread lift and other cosmetology procedures by using the latest techniques and FDA-approved products along with an added gesture of ethics.
Frequently Asked Questions
Are There Any Risks or Side Effects?
It is an absolutely safe procedure with minimal recovery time, but there could be minor trivial side effects. To avoid any major complications, choose the best thread lift treatment clinic in Delhi.
A few common but minor side effects are bruising, trivial swelling, and slight pain in the affected area, but all these symptoms subside within a week giving you a more defined attractive face.
How Long Does A Thread Lift Treatment Results Last?
Thread lift full bloom results due to collagen boost might take a few months but the initial tightening of skin from the thread will give you noticeable defined facial contours within a week.
The enhancement will continue as the skin creates more collagen and fill up the sagging skin areas. The threads under your skin will dissolve in approximately six months but the effect remains for longer thanks to the new collagen that the skin makes after the lift.
What is an Idle Age for The Thread Lift Procedure?
The best candidates for a thread facelift are people in their 30s to 60s and have fairly a good skin tone looking for prominent apples of cheekbones or diminished nasolabial fold.